Les silences de Pie XII, Histoire d'une controverse (en)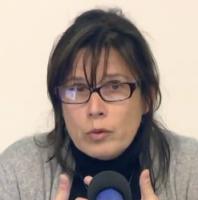 Title
Les silences de Pie XII, Histoire d'une controverse (en)
Subject
Description
Recording of the lecture given in Le Mans by Muriel Guittat-Naudin, doctor in contemporary history, the 21rst of March 2016

Summary: Pius XII is still today the most controversial pope of the twentieth century. At the heart of the debate comes a nagging question about the attitude of the Vatican during the Second World War. By remaining silent, is Pius XII partly responsible for the genocide of the Jewish people? If he had loudly denounced the extermination of European Jews, would lives have been saved? But how to grasp the history of a controversy that has been alive and kicking since the early 1960's ?
This conference will try first to build a reasoned account of this controversy over a period of more than half a century and then, to analyze its hidden mechanisms.
Creator
Publisher
Date
03/21/2016
Coverage
Catalog Search
Search for related records in these catalogs:
Embed
Copy the code below into your web page
Item Relations
This item has no relations.