Dialogue interreligieux et minorités au Proche/Moyen-Orient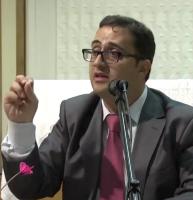 Title
Dialogue interreligieux et minorités au Proche/Moyen-Orient
Subject
Description
Recording of Amin Elias' lecture at the parish of Saint-Bernard des Bernard (Partner: Father Henry Fautrad, diocesan delegate of the 'Secrétariat pour les Relations avec l'Islam').

The 'interreligious dialogue' between Christians, Muslims and Jews is a recent phenomenon although, for centuries, believers of these three religions have lived together, exchanged, worked together, debated together and mutually influenced each other's practices and discourses. Islamic-Christian dialogue, Christian-Jewish dialogue, Jewish-Muslim dialogue (which is newer and partly inspired by the previous two) have left their imprint on the last half-century. This contemporary novelty is characterized by three major phenomena: the relations of domination existing in the name of religion are questioned, but the official status of 'minority' still lasts in many societies; the hatred of individuals is widely rejected but ambiguities remain when it comes to defining group identities (nation, 'ethnic group', religion, 'race') and concepts (anti-semitism and racism, discrimination, segregation and apartheid) resulting in demonstrations ranging from cautious cohabitation to total rejection and to contempt; repercussions of the conflicts in the Near and Middle East (the Israel-Palestinian conflict, the wars in Lebanon, the civil wars in Syria and Iraq) are now felt in Europe and North America.
Creator
Publisher
Date
30/11/2015
Coverage
Catalog Search
Search for related records in these catalogs:
Embed
Copy the code below into your web page
Item Relations
This item has no relations.